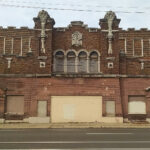 MiddlEarth Theater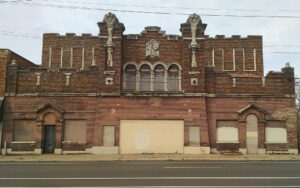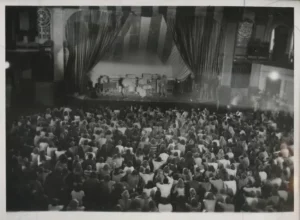 In early 1970, four young men embark into giving Indianapolis an attraction for rock music. Located in a crime-riddled area at 34th and Illinois, the discarded Ritz Theater is reborn as "Middlearth". The four – John Connely, Jim McSweeney, Timothy Quinn, and Al Cerulli, strip the theater of the seating, cut off the anchors for the seating and install carpeting for the patrons to sit, or stand, create vivid psychedelic art work and install improved sound systems for shows.
The ambitions were big, the execution daunting, and they pulled if off for the summer of 1970, and just as quickly as it rose, Middlearth went dark. From first show, June 18th and finale, August 28th (or the 29th) Middlearth gave Indianapolis bragging rights for good shows featuring Zappa & the Mothers of Invention, the first Indy show from the Alice Cooper band, Richie Havens (the best attended weekend), and some exposure for local acts such as the Screaming Gypsy Bandits, the ICE band, and the Ebony Rhythm Band. Rumors that Middlearth would reopen later that year never panned out.
I thank the Indy Star for the photos!
Please follow and like us: